April 23 – October 16, 2006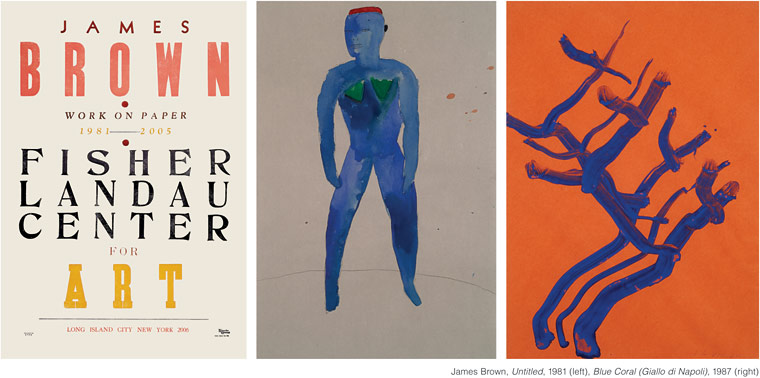 JAMES BROWN: WORK ON PAPER, 1981–2005
2nd floor
The itinerant painter and sculptor James Brown—not to be confused with the godfather of soul—makes art not only in various media but in many locations. His works on paper, which for Brown can mean anything from an envelope to fine Japanese fiber paper, were created in sites as far flung as New York, Tokyo, Paris, Tangiers, Oaxaca, and Naples. The 120 objects on display here encompass a quarter century of production and expand on the survey exhibition organized by Bernd Klüsen that toured France and Germany from 1999 to 2001. For the current show, Katz, curator at the Fisher Landau Center, has added to the European-exhibition checklist a substantial selection of pieces made by Brown since 1999. The works range from abstract gouaches to biomorphic and figurative watercolors to collages that update the synthetic Cubist experiments of Picasso and Braque.
— Martha Schwendener, Artforum, May 2006.
ZOO STORY
An exhibition of animals in art — for the young and the young at heart
1st floor
'ZOO STORY' A clay gorilla by Daisy Youngblood, a bronze she-wolf by Kiki Smith, a flock of concrete sheep by François-Xavier Lalanne and works about animals by more than 20 other artists, including John Baldessari, Katharina Fritsch, Ross Bleckner and Rebecca Horn, turn the first floor of this sleek, three-story private museum into a diverting menagerie.
— Ken Johnson, The New York Times, Friday, January 20th, 2006.
PAINTING AND SCULPTURE: Selections from the collection
3rd floor
JOE ANDOE
CARL ANDRE
DONALD BAECHLER
JOHN BALDESSARI
MATTHEW BARNEY
NAYLAND BLAKE
ROSS BLECKNER
JAMES BROWN
PETER CAIN
SAINT CLAIR CEMIN
FRANCESCO CLEMENTE
WILLEM DE KOONING
JOHN DUFF

KATHARINA FRITSCH
ADAM FUSS
FRANK GEHRY
ROBERT GREENE
JAN HASHEY
REBECCA HORN
RONI HORN
NEIL JENNEY
ELLSWORTH KELLY
JON KESSLER
JEFF KOONS
FRANCOIS-XAVIER LALANNE
ANDREW LORD

PAUL MANES
AGNES MARTIN
YOSHITOMO NARA
TOM OTTERNESS
ROBERT RAUSCHENBERG
ED RUSCHA
JAMES ROSENQUIST
LAWRENCE SEWARD
KIKI SMITH
CY TWOMBLY
PALOMA VARGA WEISZ
DAISY YOUNGBLOOD
ANDY WARHOL

---